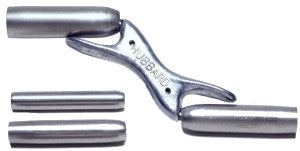 Premium Barrel Jointer by Hubbard
All barrel jointers are not created equally. Hubbard's barrel jointer is favored among our crews for it's design and durability. It's what our Pros use.
Featuring a cast aluminum body with 4 steel barrel attachments this jointer is a one size fits many for your tuckpointing or striking needs. Barrel sizes are 1/2", 5/8", 3/4" & 7/8".
Each barrel is removable and interchangeable with either side of the body. Barrels are also replaceable if lost or damaged. Twist on/off the desired barrel size to tackle tuckpointing tasks. 
Hubbard jointers are made here in the USA
Multiple joint sizes with one tool
produces an ultra smooth, clean concave finish on mortar joints
Replaceable Steel barrels
Unsure about this barrel jointer?
Check out Bon's economy barrel jointer here.