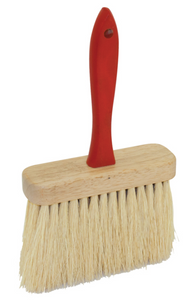 6-1/2" x 2" Jumbo Utility Brush with Tampico Fiber Bristles and Red Wood Handle
Every mason I know carries one of these handy brushes. They work great for putting that final touch on your completed tuckpointing, bricklaying or other masonry project.
Don't go doin' masonry work without your red handled brush. Get one or two, heck, get 3.
Red Handle Jumbo Utility Brush
This versatile utility brush features long-wearing white tampico fibers that can be used on mason, brick, tile, stone, and more. Tampico fibers are acid, alkali, and heat resistant for use with a variety of materials. The porous fibers hold water for cleaning or application purposes. These fibers are great for applying materials to rough surfaces like roofing, asphalt, concrete, and masonry surfaces. The 4" bristles allow for sweeping motions of the brush, but stiff enough to hold their shape. The 6" long handle on this brush allows for a comfortable grip when applying materials or cleaning up tools and workspace while still keeping a distance between your hands and the material. The hang hole on the end is easy to hang up for drying and storage.
Can be used on masonry brick, tile and stone
Tampico fibers are heat, alkali, and acid resistant
Porous tampico fibers hold water for cleaning and applications
Soft to medium texture bristles are more aggressive than most fabrics for cleaning
| | |
| --- | --- |
| Item ID | BL526 |
| Weight | 0.70 LB (0.32 kg) |
| Length | 6.5 in. (16.510 cm) |
| Width | 2 in. (5.08 cm) |
| Height | 11.25 in. (28.5750 cm) |
| Material | Tampico and Wood |
| Color | Red |
| Handle | Built-In |
| Handle Material | Wood |
| Handle Length | 6 in. (15.24 cm) |
| Trim Material | Tampico |
| Trim Length | 4 in. (10.16 cm) |